18.01.2017
BD Brilliant Violet™ 421 and 480 Conjugates
BD Brilliant Violet™ 421 and 480 Conjugates
Add more colors to multiple labeling assays in the UV/Vis region, with Brilliant Violet 421 and Brilliant Violet 480 conjugated secondary antibodies. When combined with Alexa Fluor® 488, Rhodamine-Red™-X, and Alexa Fluor® 647 conjugates, effective 5-color fluorescent labeling is possible.
If nuclear counterstaining is desired, 4-color antibody staining is possible using Brilliant Violet™ 421, Brilliant Violet™ 480, Alexa Fluor® 488 and Rhodamine Red™-X. Switching the nuclear stain from DAPI (emission in the blue region) to DRAQ5™ (which has red emission) frees the violet-blue region of the spectrum to accommodate the two Brilliant Violet dyes. DRAQ5's excitation and emission profiles overlap those of Alexa Fluor 647.
---
We offer a range of secondary antibodies that are recommended for multiple labeling due to their minimal cross reactivity, ( See our multiple labeling guidelines for more information).
Available Target Specificities for Multiple Labeling (Designated ML* in product tables)
Chicken IgY (IgG)

Goat IgG

Guinea Pig IgG

Human IgG

Mouse IgG, Fc

γ

 Fragment specific
Mouse IgG, Fc

γ

 subclass specific (1 / 2a / 2b / or 3)

Mouse IgM

Rabbit IgG

Rat IgG

Rat IgG, Fc

γ

 Fragment specific

Rat IgM

Sheep IgG

Excitation and Emission Spectra
Excitation and emission curves for BV 421™, BV 480™, Alexa Fluor ® 488, Rhodamine Red™-X, and Alexa Fluor® 657.
DRAQ5 can be used as a nuclear stain in place of Alexa Fluor 647.
---
Brilliant Violet Dyes
BD Brilliant Violet polymer chains can be considered as a collection of optical segments, each with the ability to absorb light and emit fluorescence signal. This results in materials that have a bright fluorescence signal for better resolution and sensitivity.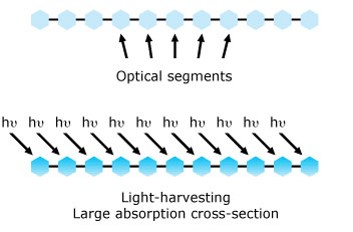 Light harvesting base polymers have multiple optical segments that can emit for fluorescence detection.
---
Recommended Filter Sets
| Channel | Fluorophore | Excitation (nm) | Emission (nm) | Chroma Filter Set |
| --- | --- | --- | --- | --- |
| Blue | BV421™ | 407 | 421 | 49027 |
| Cyan | BV480™ | 436 | 478 | 49302 or 49001 |
For more information on these filter sets, please go to the Chroma website.
Spectral properties
Fluorophore

Extinction co-efficient (M 

-

1 cm

-

1)

Quantum Yield (ɸF)

BV421™

2587000

0.91

BV480™

1416000

0.81