NEW "CLICKable" Desthiobiotinylation Reagents From Jena Bioscience
Labeling of biomolecules with biotin is routinely performed for their subsequent affinity purification via streptavidin agarose or detection with fluorescent or HRP-labeled streptavidin. A limitation of the biotin/streptavidin interaction is its irreversibility under physiological conditions.
The single-ring/sulfur-free biotin analog Desthiobiotin however binds less tightly to streptavidin, allowing specific elution from streptavidin affinity resin using mild conditions based on competitive displacement with free biotin[1].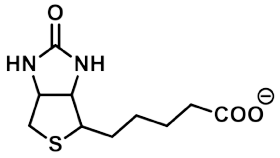 Biotin
Desthiobiotin
Now available: CLICK-functionalized reagents for Desthiobiotinylation of Alkyne-, Azide- and DBCO-tagged biomolecules via Cu(I)-free or Cu(I)-catalyzed Click Chemistry.
| | |
| --- | --- |
| CLICK Functionality | Product |
| Alkyne | Acetylene-PEG4-Desthiobiotin |
| Azide | Azide-PEG3-Desthiobiotin |
| DBCO | DBCO-PEG4-Desthiobiotin |
Table 1: Available Desthiobiotinylation Reagents with extended PEG3- or PEG4 spacer for increased molecule solubility & optimized streptavidin binding.
Reference:
[1] Hirsch et al. (2002) Easily reversible desthiobiotin binding to streptavidin, avidin, and other biotin-binding proteins: uses for protein labeling, detection, and isolation. Anal. Biochem. 308:343.
---
CLICK Chemistry reagents are not in stock they may be available as custom synthesis, just contact info@stratech.co.uk with any questions you may have!
For more information on Jena Biosciece products visit there mini-site and product listing.