phospho-antibody made by Affinity
Who are we?

Affinity Biotech was founded in 2006 and our domestic base was put into use in 2012. Our laboratory and office building covers an area of 3,000 square meters, and we have animal breeding base of 10,000 square meters. So far, Affinity Biotech has successfully developed more than 13,000 categories of antibodies, and we have more than 15,000 kinds of peptide in stock. Phosphorylated antibodies have become our featured products, and we have established cooperation with almost all of the major antibody brands in the world.
Why Affinity?
1、Quality control
All of our products are in-house made. Each and every our phosphorylated antibody is produced after 3-step affinity purification, and the final phosphorylated antibody will only identify the phosphorylated polypeptides, not the non-phosphorylated polypeptides (ELISA test guaranteed).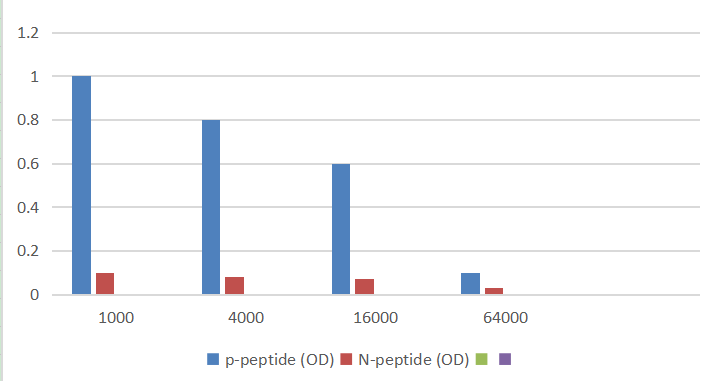 For western blotting, the species reactivity listed on the datasheet means that the antibody has been tested to cross-react with the homologous target proteins from these species. Unverified or predicted species reactivity will not be shown.
If the investigator want to conduct western blotting on an uncommon species, please contact us to perform peptide sequence comparison. Phosphorylated polypeptides and non-phosphorylated polypeptides were used to block the antibody to ensure the specificity of phosphor-antibody.
For the application of IHC, tissue microarray, which covers more than 30 species (including human, mouse and rat), was used to verify the species reactivity of the antibody. The IHC images of antibody are all traceable.
IHC data of Phospho-Tau (Ser235) Antibody
2、Extensive product catalog
To date, Affinity can provide more than 1700 phosphor-antibodies to our partners and customers. Among them, 800 phosphor-antibodies are original and pioneering products in the world. Antibodies with the cat# of AF8xxxx have earned a reputation from our customers around the globe. In 2018, we will further expand our product line of phosphor-antibodies. If you need any phosphor-antibody, you may contact us. We are willing to develop this antibody for you. The latest phosphor-antibodies (cat# of AF7xxxx) have basically covered all the highlighted Phosphorylation sites reported in the renowned academic journals of the last 3 years. These products have not been put up for sale for now.
3、Information transparency and traceable procedures
Any end-user of our products can contact Affinity Biotech to obtain the specific information about the antigen, including HPLC and MS profiles. Between commercial secrets and scientific contributions, Affinity Biotech always chooses the latter!