Sino offers
Sino Biological – When Quality Matters
Sino Biological was established in Bejing in 2007. Today, Sino is one of the premier manufacturers of recombinant proteins, antibodies and related products. Sino has a strong focus on quality, is ISO 9001:2008 certified and is capable of producing under GMP rules.
Sino Biological offers:
Cytokines & recombinant proteins
Antibodies and ELISA kits
cDNA expression clones
Cell culture media
Custom and CRO services
Sino Biological offers a wide range of cytokines, growth factors and other recombinant proteins manufactured to the highest quality standards.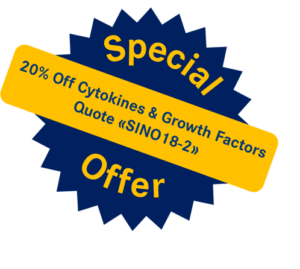 Produced in mammalian cells
Ultrapure ( >90% by SDS-PAGE)
Low Endotoxin levels
Carrier Free: dissolved in PBS, without BSA
600+ GMP-level cytokines
Bulk quantities available
Sino Biological offers a wide range of antibodies, which are all made in-house. Elite RMabs are rabbit monoclonal antibodies with especially high specificity and stringent validation by endogenous cell lysates.
Mouse Mabs
Elite Rabbit Mabs
Control and anti tag abs
Secondary abs
Sino Biological offers close to 200,000 cDNA clones, many expression ready & verified and containing epitope tags.
Full-length ORF clones, expression ready
Wide variety of epitope tags
Expressed from enhanced CMV promoters
Fully sequence-confirmed
Many species, including human, mouse, rat, ferret, cynomolgous, rabbit, viruses
Custom Production and CRO Services
Sino Biological also offers a range of custom and CRO services for academic and industry researchers. For more information please contact us at info@stratech.co.uk
These include:
Custom protein expression and purification
Custom antibody production
Antibody humanization
Gene cloning and expression vector construction
Track Records & Key Facts
More than 400 scientists & engineers
1-100 mg Mab production in 3-6 weeks
1-10 g Mab production in 6-8 weeks
More than 100 bioreactors (2L – 300L)
Preferred CRO partner for multiple top-tier Pharma companies
Special offer SINO18-1 valid until December 31, 2018.
Special offer SINO18-2 valid until October 30, 2018.
Offers cannot be combined with other discounts or offers.