At Stratech, we specialise in providing a comprehensive range of monoclonal antibodies (mAbs) for scientific research. We partner with state-of-the-art facilities and suppliers to bring a wide range of products and services developed with your needs and schedule in mind. Take a look at some of our mAbs and associated production services, how they work and how they can benefit you.
Mouse Monoclonal Antibodies
mAbs are made by identical immune cells which are all clones of a unique parent cell. They serve as important reagents in many research areas. mAbs have a variety of applications, including diagnostic tests, analytic and chemical uses, and therapeutic uses.
No matter what research you are carrying out. Reliable mAbs always play a crucial role.
Centering on antibodies, our expert suppliers have established a series of technology platforms and animal breeding expertise. Our mAbs are produced by professionals who work on antibody research for many years. Every production step of mAbs is screened and verified strictly so that the researchers have no doubts to use them.
Mouse monoclonal antibody has many features such as targeting to a single epitope, high specificity, stable passage, large-scale manufacturing and extensive applications in basic research, medical diagnosis, tumor therapy and radioimmunoimaging.
Stratech expert partners offer a reliable production of custom mAbs based on customers' various demands. Based on large-scale production as well as high quality, these custom mAbs have been widely used in screening therapeutic targets and drugs discovery.
For example, Cusabio's production process of custom monoclonal antibody is as follows.

Cusabio's mouse mAbs and production services offer a range of advantages namely, high sensitivity, high specificity and flexible customization to appeal to the various needs and goals of our clientele.
Browse Antibodies:
Cusabio Monoclonal Primary Antibodies (unconjugated)
Cusabio Monoclonal Primary Antibodies (conjugated)
Services workflow: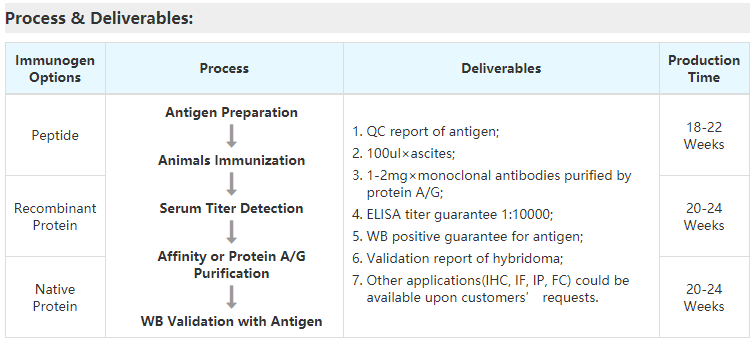 Another Stratech partner, Sino Biological, has developed mouse mAbs with high sensitivity and specificity using hybridoma technology. They also provide flexible customized solutions tailored to customer requirements.
Sino Biological mAb production process:
Antigen Preparation
Antigen Validation- including analysis of client's antigen by both SDS-PAGE and UV
Immunisation- Including pre-immune bleed, immunisation of five balb/c mice / 2 rabbits, serum titer test and final bleed.
Fusion and Screening / Library construction & screening (rabbit mAb)- Including subcloning, cell expansion and cell banking.
Antibody Production and Purification- Including Vector construction and Transient transfection of HEK293 cells (rabbit mAb), appropriate scale hybridoma cell culture and purification by protein A affinity chromatography.
Quality Control Analysis- Including Analysis by SDS-PAGE and UV ad well as ELISA validation.
Benefits of the standard monoclonal antibody production
Access to sophisticated peptide design software with high-efficiency conjugation methods ero ensure a better than 95% immune success rate for designed peptides
Leveraging cutting-edge international recombinant protein expression & purification technology. Access to multiple protein expression & purification platforms, and a wealth of experience on 6000+ protein productions, with consistently high antigen expression success rates.
Fully customized immunisation, screening and detection in line with your intended application and requirements.
A wide range of validation platforms including ELISA, WB, IHC, FACS. Multi-cell and multi-tissue verification, and improved antibody screening success rate with low background and high sensitivity.
Flexible quotes and charging to reduce risks and save you money.
Optimised electrofusion technology that's 3-5 times more efficient than PEG mediated cell fusion.
Browse Sino's Antibodies:
Sino Biological Monoclonal Primary Antibodies (unconjugated)
Sino Biological Monoclonal Primary Antibodies (conjugated)
Fast Mouse Antibody Production Services
We understand that many of our customers need mouse mAbs with fast turnaround times. Because mice are widely used in a wide range of research contexts, we recognise the need to provide a diverse spectrum of services. The high specificity and stability on mouse mAbs have ensured that they remain widely used in medical diagnosis and other basic research.
If the typical mouse monoclonal antibody production schedule of around 15-20 weeks is at odds with your schedule, we can offer a faster alternative. Obtaining a qualified antibody and animal immunization is the most time-consuming part of the process, typically taking between 8-12 weeks. We have shortened the immunisation time to just 4-5 weeks allowing us to provide fast mouse monoclonal antibody production services that produce the same high quality antibodies in a fraction of the lead times.
Sino Biological's Fast Mouse Monoclonal Antibody Production Service Highlights:
Antibody generation in a short period of time
Without increasing the dose of immunogens
High fusion efficiency with electrofusion technique
Able to produce antibodies for specific applications such as FC, IHC and WB
Fast antibody manufacturing from milligram to gram quantities
Antibody with high purity, high lot-to-lot reproducibility and without animal viruses contamination
Fast mouse service also offers additional benefits such as:
Short production times without increasing the dose of immunogens.
Application specific antibodies (e.g. FC, IHC and WB).
Rapid production scale even in high volumes.
High antibody purity and high lot-to-lot reproducibility without animal virus contamination.
Deliverables
Fast mouse mAb
Positive hybridomas
Purified antibody
2 tubes of frozen cells per clone
CoA
Rabbit Monoclonal Antibodies
We also understand the importance of rabbit testing within the fields of medical science and basic research. Rabbit mAbs tend to offer even higher specificity and affinity than mouse mAbs and are able to recognise more novel epitopes and antigens. As such, they play an important role in the development of therapeutic diagnostic kits and drug candidates.
Our suppliers develop rabbit mAbs by constructing antibody libraries in order to directly obtain antibody genes and their sequences. This process is more suitable for the long-term preservation of high quality antibodies and efficient recombinant expression.
Bioss' Rabbit mAb Production Advantages
State-of-the-art recombinant protein expression & purification technology, multiple protein expression & purification platforms, rich experience on 6000+ protein production, high success rate of antigen expression.
Professional peptide design software and high-efficiency conjugation methods ensure that the immune success rate of designed peptide is greater than 95%.
Leading antibody library construction and screening technology, reduce the risk of antibody fragment deletions or mismatches and increase the probability of screening for target antibodies.
ELISA, WB, IHC, FACS and other validation platforms, multi-cell and multi-tissue verification, aiming to improve antibody screening success rate with low background and high sensitivity.
Higher affinity, 10-100 times more than mouse mAb, on average.
One-stop antibody development service: from antigen preparation, vector construction to antibody expression & purification, saving customers' time.
Quoting by steps, charging by nodes, reducing customers' risk and saving costs.
Learn more about Bioss and  Bioss Abby Rabbit Monoclonals Antibodies
Browse all antibodies from Bioss
Rabbit and Goat Monoclonal Antibodies production using B Cell Cloning Technology
Revolutionary mAb Technology
Stratech partner, RevMAb Biosciences USA, Inc has developed a revolutionary monoclonal antibody generation method which allows development of monoclonal antibodies without generation of hybridoma. The recombinant antibodies are developed from a broad range of antigen-specific B cells that are inaccessible to traditional hybridoma technology. This revolutionary method has successfully been applied to develop high quality recombinant rabbit and goat monoclonal antibodies.
Instead of current hybridoma generation by cell fusion methods, we directly screen antibodies from immunized rabbit or goat B cells by immunoassays such as ELISA, Western Blot, etc. and identify desired B cells. We then clone cDNA and perform recombinant antibody production using transient and stable mammalian cell expression.
Browse RevMab monoclonal antibodies
Rabbit and Goat Monoclonal Antibody Service using B Cell Cloning Technology
RevMAb offers a number of different rabbit and goat monoclonal antibody development and production services. We develop monoclonal antibodies directly from the isolated B Cells of immunized animals using our proprietary technology.
The B cells are grown in 96-well plates and their supernatants are screened to identify the B cell clones that produce antigen specific antibodies for desired applications. The antibodies are recombinantly produced by cloning their H and L chain cDNAs and expressing them in mammalian cells. Our technology has so far been successfully applied to produce a various range of antibodies with high specificity and affinity for research, diagnostic, and therapeutic use.
Publication: Humanized Antibody Reverses T-cell Suppression and Blocks AML Development. Cancer Immunol Res. 2019 Aug;7(8):1244-1257.
Gui X, Deng M, Song H, Chen Y, Xie J, Li Z, He L, Huang F, Xu Y, Anami Y, Yu H, Yu C, Li L, Yuan Z, Xu X, Wang Q, Chai Y, Huang T, Shi Y, Tsuchikama K, Liao XC, Xia N, Gao GF, Zhang N, Zhang CC, An Z., Disrupting LILRB4/APOE Interaction by an Efficacious
Contact us
Want to know more about any of our supplier's mAbs and their production services? Get in touch with us today to place an order or arrange a free, no-obligation quote.