Neuromics specialise in providing reagents and methods for the Neuroscience, Immunology, Cancer, Stem Cell and Regenerative Medicine Research Community.
They serve scientists doing basic research and drug discovery in Neurodegenerative Diseases, Pain, Autoimmune Diseases and Cancer.
---
Filter by Product Categories
Transfection Reagents

Transposons, Transfections, Editing, DNA/RNA Extraction and Purification Kits

Apoptosis Research Reagents

Detection kits, antibodies and proteins by category

ELISA Solutions

ELISA kits, buffers, diluents and stabilizers by Category

Labeling Kits and Reagents

Labeling kits, Cloning-Purification kits, DNA/RNA Extraction and Purification, Label Markers

Antibodies

Antibodies by Category

Primary Neurons and Astrocytes

Primary human, rat and mouse neurons and astro-glia by category

Proteins, Growth/ Differentiation Factors and Small Molecules

Recombinant/natural proteins plus small molecule/peptide agonists, antogonists, inihibitors and ligands

Stem Cell Research Reagents

Cell, Media, Markers and Growth/Differentiation Factors

Cells, Cell Culturing Systems & Cell Based Assay Reagents

Cells, Media, 3-D ECMs/Cell Based Discovery Kits, Gene Integration Tools
---
Product Literature
---
Neuromics, a division of CA3 Biosciences, Inc., provides proven research tools for the ever expanding and exciting field of Neuroscience. They are proud to provide their products to dedicated neuroscientists who are making the fundamental discoveries that will undoubtedly lead to the next generation of novel therapies.
offering high quality ready-to-use cryopreserved neural progenitor cells complete with optimised base medium for growth and lineage commitment. Just thaw and plate these unique cells generated from E18 fetal rat brain, in the format you need, for a tissue-like mixture of in vitro stem/progentior cells, neurons, astrocytes and oligodendrocytes.
---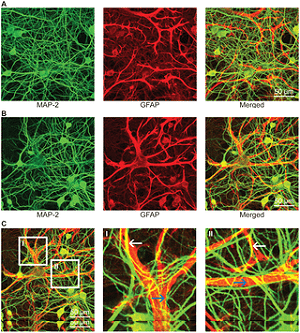 Our unique value is based on providing reagents that are thoroughly tested and characterized. We stand behind our products. If our reagents or cells do not meet expectations, we will fix it. We will either send equal replacement quantities or refund your money. Your satisfaction and feedback are important to our mutual success.