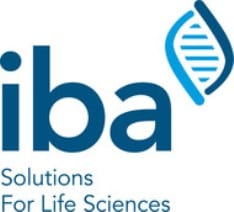 IBA GmbH is dedicated to providing high quality product and service solutions for life science research in industry and academia.
Their comprehensive portfolio ranges from nucleic acid custom services to products and services for cloning, transfection, recombinant protein production and cell isolation.
This combination of products and services allows IBA's clients to choose either IBA's proprietary products or alternatively custom services which are based on the same technologies, to drive their research.
---
Product Categories 
| | | | | |
| --- | --- | --- | --- | --- |
| FABian® – Automated cell selection | Streptamer® – Manual cell selection | Strep-Tactin®XT & Twin-Strep-tag® | Strep-Tactin® & Strep-tag® | Streptavidin & Biotin/Avidin |
| His-STREPPER | StarGate Expression Vectors | Magnet Assisted Transfection | Predefined DNA/RNA | Custom oligos |
---

IBA's nucleic acid unit provides individual and flexible custom services of nucleic acid specialties, including dsRNA as well as modified and fluorescently labeled oligos.
The Strep-tag®/Strep-Tactin® system is ideally suited for purification of highly pure and bioactive protein. It is one of the most widely used affinity chromatography systems in protein purification, detection and immobilization, and offers many advantages. For cloning and transfection IBA offers the "StarGate" cloning system and MATra, an efficient magnet assisted transfection technology using MagTag®.
MHC I Streptamers are available for isolation and staining of functional T cells. The complete detachability of the reagents leaves the cells indistinguishable from untreated cells. New Fab Streptamers allow the selection of eukaryotic cells which are characterized by specific surface markers. The complete reversibility of the reagents yields uncompromised, authentic cells for research, diagnostics and clinical use.
---
Product Literature
Detection and Selection of Antigen-specific CD8+ T Cells
---
BRANDS
FABian®
Streptamer®
Strep-Tactin®XT:Twin-Strep-tag®
Strep-Tactin®:Strep-tag®
His-STREPPER
MATra®
---
Product Ranges
IBA ProteinTAGnologies: Protein Expression and Purification
IBA Protein TAGnologies: Purification via tags/products
Strep-tag®, 6xHistidine-tag or double-tag products for purification, detection and assays of recombinant proteins.
The Strep-tag/Strep-Tactin system is one of the most widely used affinity chromatography systems in protein purification and detection and offers many advantages:
Highly pure proteins due to specific binding
Undisturbed short tag
Rapid Twin-Strep® purification under physiological conditions
Unsurpassed purity and bioactivity
For the use of this system IBA offers a large range of high quality products, such as various Starter Kits for newcomers.
Different Strep-Tactin® purification resins and pre-packed columns
Detection Systems with Strep-Tactin® conjugates or a monoclonal antibody
Twin-Strep-tag® for Protein Complex Purification and Protein:Protein Interaction Analysis
Based on its proprietary Strep-tag® technology IBA developed the Twin-Strep-tag® (tandem Strep-tag®) for a mild and rapid purification of intact protein complexes on immobilized Strep-Tactin®.
The Twin-Strep-tag® combines high specificity and mild conditions with higher affinity thereby enabling efficient purification directly from culture supernatants. Furthermore, it tolerates elevated detergent concentrations to reduce background.
---
Products
Protein purification: Strep-tag®/Strep-Tactin® – Histidine-tag – Resins
Protein detection: Antibodies – Conjugates
Protein:protein interaction: Twin-Strep-tag®
Immobillisation/assay/diagnostic: Microplates – Beads – Columns

IBA Gene TAGnologies
Magnetic Assisted Transfection (MATra)
Magnet Assisted Transfection is an easy-to-handle and highly efficient method to transfect cells in culture.  Using this technique nucleic acids, such as plasmid DNA, oligonucleotides or siRNA, are in a first step associated with magnetic particles. Exploiting magnetic force the full nucleic acid dose is then rapidly drawn towards and delivered into the target cells leading to efficient transfection.
Cloning/gene expression
Classic cloning and expression vectors
E.coli: IBA offers the Tet and T7 expression systems producing recombinant proteins in E. coli. Therefore, a variety of pASK-IBA vectors with unique characteristics is available supporting you in the purification of your protein of interest. The choice of system and vector depends on your protein and its characteristics.
Mammalian: For expression in mammalian cells IBA has released the pEXPR-IBA vectors with CMV promotor providing strong expression in a wide range of mammalian cells.
StarGate: Combinatorial cloning and expression. Transfer any gene of interest systematically into E. coli, yeast, mammalian (etc.) background with high speed and convenience to screen for the optimal host/tag combination.
Nucleic acid specialties
IBA's nucleic acid division specialises in RNA oligonucleotide synthesis (including RNAi), labelled oligonucleotides (e.g. for real-time PCR) and triphosphates. – Single stranded RNA-oligonucleotides, phosphorothioate (PTO-) protected – Tools for enzymatic DNA and RNA modifications.
---
Products
Oligonucleotides: Synthetic DNA/RNA
Cloning, PCR: StarGate
Transfection: MATra
---
IBA Cell TAGnologies
Streptamer® – fluorescent cell staining and magnetic cell isolation
Products
Fab Streptamer® : for Fluorescent cell staining (FACS) and Magnetic cell isolation of B cells, T cells, regulatory – memory – naive T cells, natural killer cells, stem cells, etc.
MHC I Streptamer®: for Fluorescent cell staining (FACS) and Magnetic cell isolation of antigen-specific CD8+ T cells
Custom Streptamer®: Custom made MHC I Streptamer® reagents with specific allele and antigen.
---